Jenilyn Ancheta claimed money for her piggery
Association/company: CARE MBA
Country: The Philippines
Ms Jenilyn Geronimo Ancheta is a member of CARE MBA through the organisation's partnership with local women's group KUMARE (of which Jenilyn is also a member of).
At 33 years old, Jenilyn works at her piggery tending to her livestock. She lives in Brgy Llavac in Real, Quezon (the Philippines) with her husband and two children.
Sadly, Jenilyn's mother passed away in January 2019. As members of CARE MBA, Jenilyn's family were able to claim PHP 15,975 (USD 310) within a month of her mother's death, which Jenilyn used as investment capital for her piggery.
Jenilyn recalled when she initially heard about microinsurance there was some hesitation. But she realised later on how microinsurance is a huge help, especially as the premium is small. It was through her membership of CARE MBA that Jenilyn learned about the importance of being insured, saying "at least you have something left behind after you have lost."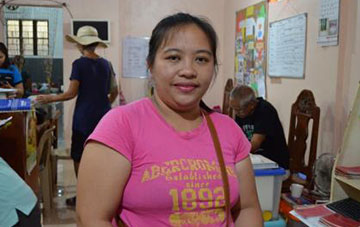 "At least you have something left behind after you have lost."