Association/company: Achmea and Achmea Foundation
Country: The Netherlands
Marten Naaktgeboren is an Investment Consultant working for Achmea in the Netherlands. In March 2019, Marten spent a week in Kenya with CIC insurance Group to help review microinsurance distribution channels for Kenyan farmers. Marten spoke with numerous stakeholders to get acquainted with the situation on the ground and soon realised that selling insurance individual, through an intermediary or on the internet like in the Netherlands, does not work for Kenyan farmers – a different and more personalised approach is needed.
Who was the assignment for?
CIC in Kenya. ICMIF is partnering with its member CIC to help their mutual insurance solutions for low-income populations reach scale in Kenya. Through the partnership, ICMIF aims to supply 250,000 dairy farmers with affordable mutual insurance products over the next five years.
What was the assignment?
The purpose of this assignment was to help CIC review the microinsurance distribution channels that are in place for Kenyan farmers as part of its ICMIF 5-5-5 Microinsurance Strategy project.
How did it work?
Before travelling to Kenya, Marten received an introduction to the Kenya project and how it operates by ICMIF. When in Kenya, Marten was hosted at CIC's office in Nairobi and he spoke with key staff about challenges with the current distribution channels and opportunities to develop this aspect of the project going forward. On his return, Marten summarised his recommendations in a short report which was shared with all project partners for further discussion.
What has been the impact of the assignment so far?
Marten's report and recommendations on how the project could move forward in developing its distribution channels was warmly welcomed and had provided the necessary stimuli for discussions on the subject by the project partners. The exact path forward is still under discussion but thanks to Marten's work it is clear that partnerships will be key to success.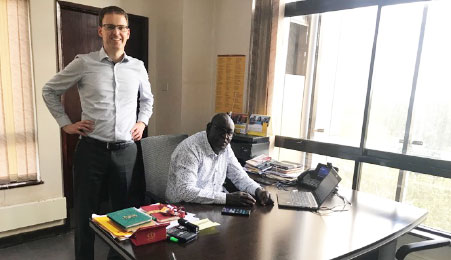 Marten Naaktgeboren, Investment Consultant (Achmea) and Joseph Kamiri, General Manager Strategy & Marketing (CIC Insurance Group)
"I previously worked in Uganda and this ignited a love for Africa and a passion to help those in need when I can. When I saw that this assignment would enable me to learn about microinsurance and enable me to help Kenyan farmers better protect their livelihood, I knew that it was the assignment for me. My biggest learning from the experience is that selling insurance individually through an intermediary or on the internet, such as we do in the Netherlands, does not work for farmers in Kenya – a different and more personalise approach is need. Trust is key and the mutual model is most certainly the best model to deliver microinsurance to these groups."
Marten Naaktgeboren, Investment Consultant, Achmea
"Achmea Foundation and Achmea are working together to organise assignments, for which Achmea employees go abroad for one or two weeks to deliver expert advice to partners of Achmea Foundation. These assignments are designed to create a win-win-win situation: our partners gain expert knowledge and tailored advice, the local community benefits via improved services from the partner, and Achmea employees gain a great learning opportunity."
Achmea Foundation
"It was a pleasure to host Marten at CIC during his time in Kenya. Marten's recommendations on how we could improve our distribution channels going forward are very helpful and will most definitely impact the future strategy of the 5-5-5 project here in Kenya."
Eve Thiong'o, Business Development Manager, CIC Insurance Group, Kenya