Association/company: Achmea and Achmea Foundation
Country: The Netherlands
Dennis de Haan is a Business and Finance Control Manager working for ICMIF member Achmea in the Netherlands. In late February/early March 2019, Dennis spent two weeks in India with another member, the DHAN Foundation, to review Year 2 of the 5-5-5 Mutual Microinsurance Strategy project with DHAN and recommend how the Foundation could strengthen its business plan for the next project year. Dennis found working in the different culture highly rewarding and the importance of listening and open mindedness are key learnings he says he has taken from the experience.
Who was the assignment for?
The DHAN Foundation in India. ICMIF is partnering with its member DHAN to help their mutual insurance solutions for low-income populations reach scale in India as part of ICMIF's 5-5-5 Mutual Microinsurance Strategy. Through its partnership with DHAN, ICMIF aims to supply over 1 million individuals with mutual insurance products over the course of five years.
What was the assignment?
The purpose of this assignment was to assess the second year of the project which ended on 31 March 2019 and use the findings from this exercise to suggest ways to strengthen the business plan for the remaining three years of the project with DHAN.
How did it work?
Before travelling to India, Dennis studied reading materials on the project and had discussions with ICMIF Foundation staff and other stakeholders to develop his understanding of the DHAN project and how it operates. When based at the DHAN offices in Madurai for the assignment, Dennis engaged face-to-face with staff and policyholders. He spoke with key staff about how the project operates and also with policyholders in the field who benefit from the mutual insurance products. It was this direct and personal engagement which enabled Dennis to truly understand what the project is all about and confidently complete the assignment.
What has been the impact of the assignment so far?
Dennis's review of Year 2 helped DHAN to refine its strategy for Year 3, ensuring more focus on specific activities that would enable greater impact on the policyholder and also secure the long-term sustainability of the project.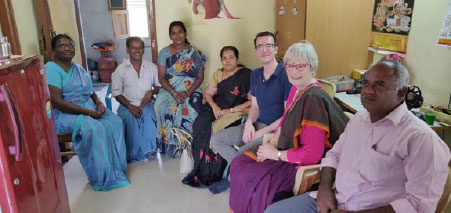 Pictured: Dennis de Haan (right of centre) in a meeting with the DHAN Foundation in Madurai (India)
"There are so many learnings that I will take with me from this assignment I carried out with ICMIF and the DHAN Foundationon behalf of the Achmea Foundation. A key learning is the importance of listening. During this assignment it became clear to me how easy it is to get lost when we are concerned with pressing ahead. We need to slow down and ask more questions so that everyone has the same level of understanding. 
Dennis de Haan, Business and Finance and Control Manager, Achmea
"Working with Dennis was a rewarding experience for us. It is important for us to always get a different perspective on the work we do and it was great to have someone who can help us take a birds-eye view of the project. Our collaboration was very successful, and the outcome will help make a difference to the lives of people living in poverty in India."
Ahila Devi, Chief Executive of People Mutuals, DHAN Foundation